While real estate contracts may seem like a cut-and-dry process on the surface, the details and language in the contract can have an incredible amount of importance if something goes wrong. Any omissions or missing and/or vague language can ultimately result in litigation and ruined relationships.
With high-value deals, it is important to have an attorney that understands the future implications and legal precedents between every "and" and "and/or" in an agreement.
We believe that contract surprises usually cost you money, time, equity, or all of the above. That is why we believe in focusing extra time and attention on getting it right the first time.
What do we mean by contracts?
A simple handshake or verbal agreement is not enough to purchase a home, commercial building, or plot of land. That is where a real estate contract or purchase agreement comes into play and is enforced by a court of law. A real estate contract is a written agreement between buyer and seller to buy the property legally. Once all parties sign the contract involved, it is binding that each side will go through with their part of the deal.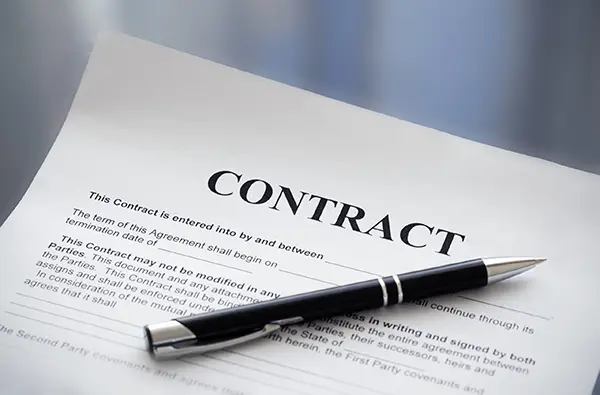 A real estate contract has information such as the agreed-upon price, ideal closing date, earnest money deposit price, and who pays for inspections or any other stated issues on the property. To ensure the contract is valid, it is usually written by the homeowner's agent and then given to the seller to look over. From there, the deal can be declined or approved. If it is approved, both the seller and buyer must uphold their side of the agreement. For the buyer, this may mean giving the proper amount of earnest money for the deposit, and the seller will hand over the deed once the payment is finalized.
Here are some common issues we see:
The paperwork is incomplete or has missing information in areas it is needed.
Verbal agreements are said, and there is no paperwork to back it up.
Changes are made to the contract after the contract has been signed and executed.
Legal names are not used throughout the contract, i.e., Mike is used instead of Michael.
The seller doesn't have the legal right to sell the property.
Do you need a real estate attorney?
If you are in the process of selling or purchasing property, there is no question that a real estate contract is needed. You want to ensure that you are protected and either obtain the correct property or sell the property legally. If you have questions about a contract put in front of you or about creating one yourself, a real estate attorney can be necessary. Whether you are buying a home, a commercial building, or a plot of land, your rights as a buyer or seller should be protected.
Hunter Law Group
1900 W. 75th St.
Ste. 120
Prairie Village, KS 66208
The information on this website is for general information purposes only. Nothing on this site should be taken as legal advice for any individual case or situation. This information is not intended to create, and receipt or viewing does not constitute, an attorney-client relationship. The choice of a lawyer is an important decision and should not be based solely upon advertisements.